Lynchburg, Virginia Home Contractor
Located in the foothills of the Blue Ridge Mountains, and right along the banks of the James River, Lynchburg may be one of the most beautifully located cities in Virginia. It's nickname, "the Hill City" is no joke—as anyone who has ever participated in the Virginia Ten Miler can attest.
Lynchburg is small enough to still feel like a hometown, but large enough to have more than anyone could ever need as far as modern conveniences, amenities, and opportunities. We have colleges, hospitals, arts and baseball, trains and planes.
To learn more about the area, please visit the City of Lynchburg website.
Stunning Kitchen Remodeling in Lynchburg vicinity
The following Lynchburg Kitchen Remodeling project is from neighboring Concord. It is such a wonderful project that we completed with a leading local designer.
Living Room Remodel and Deck Renovation
Milton Construction is a full service remodeling contractor working in Lynchburg. The photos shown include a total living room remodel in Lynchburg and a deck renovation in Campbell County featuring composite decking and lighted railings.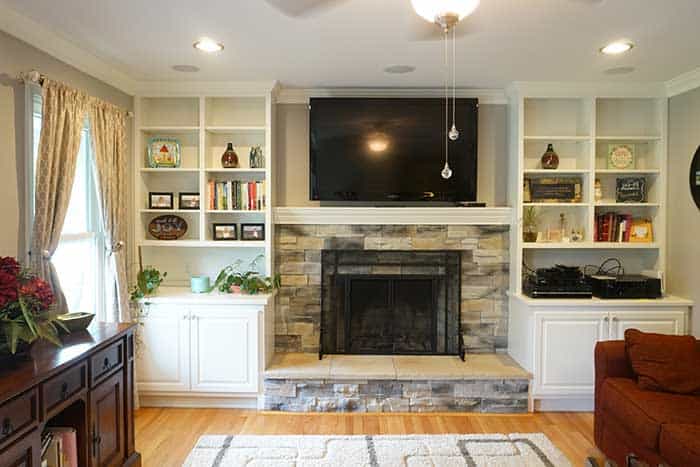 Lynchburg Area Custom Kitchen Remodeling Project
This Lynchburg area kitchen remodeling project is from neighboring Appomattox and includes a homeowner video testimony. The original kitchen shown here was from the 1970's and was radically transformed into this beautiful new modern kitchen.
Lynchburg Custom Homes
Milton Construction Company has built several new custom homes in Lynchburg and surrounding areas.
The living room had no lighting available other than lamps. Todd and his team created a new ceiling, complete with four recessed lights and a ceiling fan with a lighting feature. As an added luxury, Todd and his team wired for surround sound while the ceiling was under construction. This allowed for a seamless and professional look when it came time for his team to install the surround sound. Once a plain and boring fireplace, Todd and his team used stacked stone to add new life! Additional features of this project included beautiful custom built-in cabinets and shelving, as well as hidden electrical outlets and speaker wires.
Kim
Lynchburg, VA