Lynchburg Area Custom Kitchen Remodeling Project
The story for Milton Construction Lynchburg Kitchen Remodeling services actually takes place from neighboring Appomattox. The original kitchen was from the 70's. Our customer was out of date with everything. The floors had multiple layers of linoleum. We met with the customer and created diagrams to include the customers wants along with some suggestions by our company for the kitchen remodeling project. And during the construction we found some beautiful original flooring that we decided to refinish since to match the rest of the wood flooring throughout the house.
Shown here are photos of the old kitchen before remodeling. You never know fully what to expect when tearing walls down to the studs and especially how many layers of linoleum actually covered these floors. The Landry's were very much looking forward to seeing the old kitchen being history.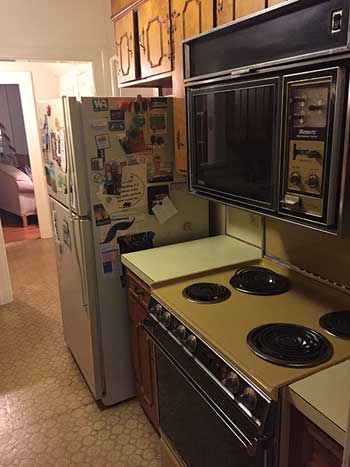 The next two images offer a stunning before and after comparison. The before image offers a good view of the linoleum that covers both the kitchen and the breakfast nook in the background. You can also see a glimpse of the hardwood floor in the next room that we were able to match up to when we discovered more hardwood under all those layers of linoleum. The after image includes a nice angle of the new window with the custom crafted valance.
Following are some nice detail shots of the bright new kitchen and appliances. Bright new cabinetry, modern yet vintage tile flooring, new appliances, and the refinished Dutch door all combine to add to the special experience of this new modernized kitchen design.
With the hardwood floors exposed and freshened up, we updated the trim and shelving, all brought to life with bright fresh paint colors. The lighting was also upgraded and the granite shelf in the pass through wall opening matches the new countertops.
Todd and his crew totally remodeled our kitchen and did an awesome job! From start to finish they were very up front with us about cost and time. We made some changes along the way and these were always handled in a professional manner. The workers were always kind and very professional and were always willing to listen to our needs and suggestions. We were very happy with the work and we love our new kitchen! Todd was also very helpful in picking out cabinets, counters, flooring, and appliances. We would whole-heartedly recommend Milton Construction and plan to use them again!!
Mark Landy
Appomattox, VA